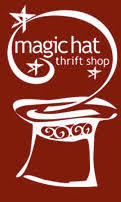 Summer is a Key Time
Did you know that Glover surpassed ALL of the other Marblehead schools in hours volunteered this past year?  Do you know that we received $29,000 in funds from volunteering and donating at the Magic Hat?  Not only did this enable us to deliver all of our awesome enrichment programs, but also helped to buy new music and gym equipment as well as science kits for special experiments!
Did you also know that if you volunteer at the Magic Hat over the summer Glover gets 1.5 hours for every one hour that you volunteer.  When you arrive to help out, just indicate that you are here for Glover and your hours will be recorded.  Also, if you just would like to do a load of laundry, you can take a bag and still get those 1.5 hours for 1 hour of time. It's that easy!
*Also, if you donate a small furniture item, it's equivalent to 1 hour of volunteering time!  Just let them know you are from Glover so you can get credit! 
Ready to Volunteer ?
Reserve your slot on the Sign Up Genius